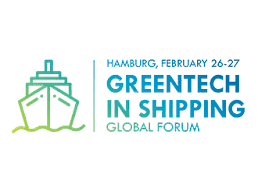 The mindset of sustainability and efficiency is the key to unlocking successful business formula in the maritime industry. Upcoming years will bring the time to meet new regulations and the question is whether the industry is there yet. Has enough been done to create a sustainable shipping market? Which latest green technologies can contribute best to achieving the determined goals? Which fuels should the sector turn to, in order to drive the most effective economic and environmental outcome? There are numerous issues that call for decisions and collaborative thinking, therefore, events like GreenTech in Shipping contribute to the sector by providing an opportunity for all stakeholders to meet and discuss industry outlook, look for ways to cooperate and find solutions to most urgent issues as well as exchange good practices.
Key topics:
Overview of latest regulatory requirements
Challenges for shipbuilders and ship owners when striving to comply with new environmental rules and regulations
Impact of regulations on marine lubricant formulations and overall industry
The need to install emission-cleaning scrubber systems in order to comply with IMO regulations
Green technology's contribution to reduced emissions
Cutting-edge green technologies contributing to sustainable shipping market
Technologies helping to build ships with least possible carbon foot-prints
The peak of scrubber technologies – what's next?
Scrubber technologies from manufacturer and shipowner perspectives
The role of SCR technology in NOx control
Green ports facilities and their role in making shipping sustainable
The importance of a dialogue between ports and shipowners to solving environmental and infrastructural problems
Overview of ports' green initiatives across Europe
Searching for the greenest fuel (low sulphur fuel oil, bio diesel, hydrogen, methanol, renewables and others) – which options have the best economic and environmental effect?
Alternative fuels contributing to reduced emissions
LNG as fuel and its place in the shipping market
Organizes high-level events of different formats (business meetings, forums, conferences, exhibitions) for LNG and Maritime experts and industry leaders. Our values are based on knowledge, innovation and communication and our events embed these three essential parts that lead to progress. Two closely related LNG and Maritime sectors constantly undergo challenges and changes and only through a dialogue and partnerships can the industries thrive and become even more sustainable and progressive. Our company is devoted to encouraging the sharing of knowledge and good practice between experts from different areas: researchers, government representatives and business leaders. It is important to hear the opinions and get the input from all industry players as well as to follow the latest technical innovations and solutions in order not to stay behind. Because of their friendly and intimate atmosphere, our events provide best networking opportunities, it is easier to meet and approach important contacts and move your company's growth forward.
More info here